Lorn and forlorn are words I can get behind.
____Forlorn is more common nowadays: to lose,
_________________forlost to the point of completion;
________________________________lost or left behind.
I am solorn
lovelorn hopelorn
sadlorn greedlorn
thricelorn sixpencelorn
anxlorn neurolorn
sublorn lostlorn
hatelorn gherlorn
deathlorn
lifelorn
alorn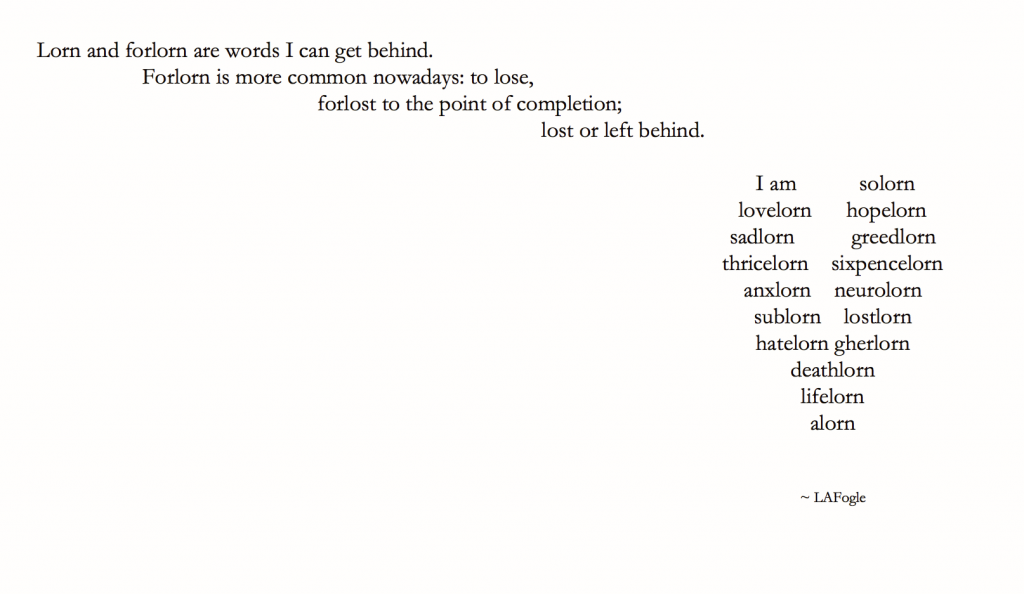 ---

A psychic messaged me on Twitter to say there were snakes posing as my friends that would like to see my downfall. How cool is that?
I don't think so, though. Thanks to two years of Covid, I haven't spent much time with peripheral friends. I'm at an age where loyalty is no basis for overlooking weird tensions or getting involved in pockets of social hierarchy. Many artists are looking to connect, but you can't find simpatico vision if you're maxing out your time/energy with the wrong people. You can tell the wrong people because they will ignore your work. If you work hard at writing, they'll ignore it. If you sing, they'll ignore it. If you make a video, they'll ignore it. Whatever you accomplish, they'll ignore it.
I had a couple of nut sandwiches barely try to conceal that I was on the menu as they were trying to show off for each other. I almost burned the gymnasium down with my mind but got out of there before my face dropped too far. Can you imagine winding up to be surly with someone the moment they appear? Being so scrambled into caricature that internal reflection is not something your icons would have done? Hawking the scene from within a bad novella? One bumbler actually told me I was not in my place: "Blah blah shiny blah, I was surprised you got that bone of recognition because we didn't sanction it and also so and so is so much better at what you do, don't you think?" All I could think about was how they were going to dress up such a lame story when they retold that yawner to their sycophants, while trying to insert themselves as a bold VIP in some weak game of broken thrones for The Great Hierarchy of Mediocrity. #hierarchyofmediocrity.
I had to get out of there fast as well, before my face fully morphed into the wolf-woman who feeds on outdated social roles. I had to get Hel, Baba Yaga, Kali, Keres, Eris, Nox, Scylla, Charybdis, all the Banshees, and some chimeras to talk me down. Why are these two so threatened by me? More accurately, why do so many women behave awfully toward other women?
No thanks! I've seen this kind of thing a hundred times and every single time it results in a loss of time. No one cool acts like that. Talent in your arena helps everyone grow to the size of the tank. It is crucial to being in an actual arena. Stand by your vision, keep on with your work, and spend thy limited free time with people who appreciate you authentically, and not because it furthers their brand. You don't need a train of people as you work on growing and understanding your artistic talents. Artists can determine if something is subjectively good without being told it is or because it is gaining in popularity. Music-poetry-art circles, by the very nature of art, could imply an intimate or transcendent connection, not some self-aggrandizing starfuckery.
Between stars and celestial starfuckers, orbiting weak-on-weak gravity, debris attracts debris.
Don't be shackled to any false hierarchy. Honor yourself. See clearly.