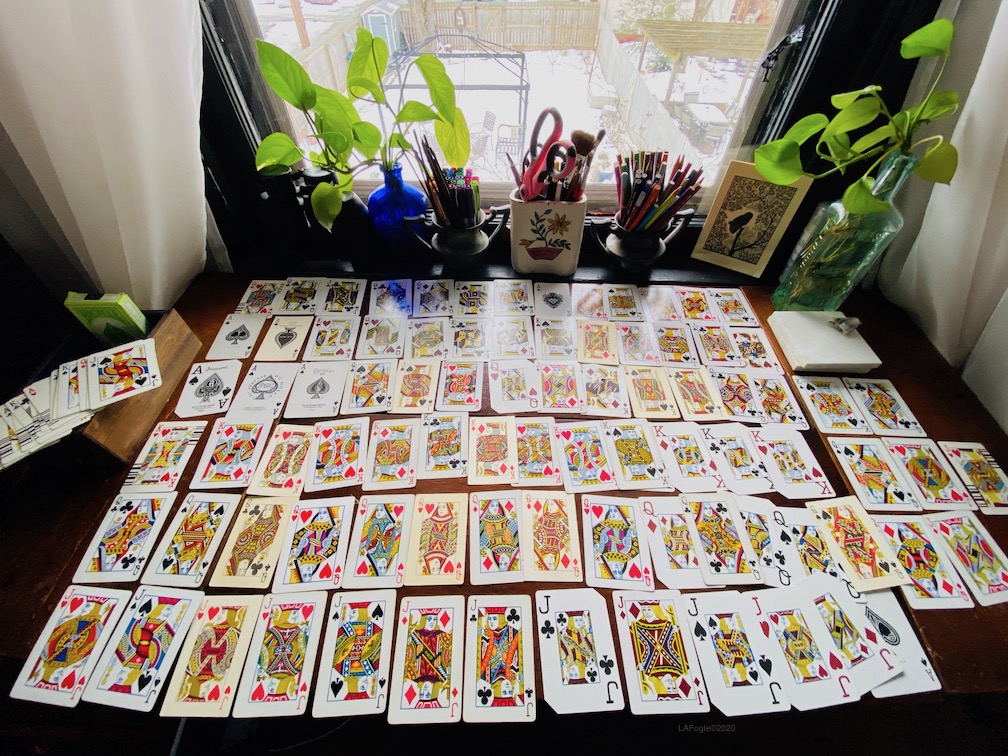 I've casually collected royalty cards for about 20 years. I like to study the differences in the faces. You know, take meditative mini breaks to gaze at images, as we do with art.
I recently posted a mention of the Suicide King's head stab as being a lost-in-translation situation. I've met a handful of artists who associated with the haunting self-sabotage of this image. Just as I did and do. How funny to find out it is all a big misunderstanding stemming from generations of artists lightly tweaking what they see from worn copies (prior to the printing press). There's something about the subtle decisions on facial expressions from deck to deck. The Queen is worried, determined, glum, drunk, manic, cherubic. There is one card where she has a teeny smile. Jack looks like a young boy who smelled something that turned him into a mustached man whose lip brow sits between himself and the kingdom, thereby proceeding him.
I know I'm streaming into my blog and therefore should explain that last bit, but it is already a lot that I'm forming sentences. No one really thinks in sentences except maybe TV characters like Carrie Bradshaw. Also, I explain references to the Book of Thomas and even Montessori in a video I shot last year using these cards. It's a series of face morphs from card to card, shot to accompany an After-Death Plan song. We need to release that to the world…of course, ADP has been sitting on finished videos from just before the pandemic. I haven't felt like sharing anything, except writing and that's because I've been exposed to a supportive group of talented creators. One day we'll all be okay again? Post-pandemic sages full of appreciation.
The power of the cards, to me, has to do with our developmental visual processing of high contrast colors, black and white with the flashing red. Yellow after we get out bearings on the first three. Then there's the archetypal logic system, the four seasons divided into weeks totaling a year, a royal for each month, and a suit for each solstice. Basic highly metaphoric symbols that correspond to the four elements, then resound as one's folds of vision and insight develop.
I'll save it for the linear notes on the After-Death Plan video.
When I hunted for this picture, I found it in an email I'd sent to a writer friend last year. I'd gotten up early to write and was still stretching my brain waves out of a lucid dreaming state. Sometimes you can find a writer to correspond with who understands creative flow and you can say just about anything to them without it sounding weird. So I told him of the serpentine nature of my dream and what Jung said about the separation needed to birth new consciousness…and something about the order brought out of confusion in a process similar to the birth of the cosmos out of chaos. And of how several myths describe creation as separation.
I'd helped a friend move a lot of stuff after decades years of marriage and my lat muscles were spasming in my sleep, which probably translated to snakes in my back, which probably translated to the deeper processing about the destruction of a tribe member's relationship and stability. I never did process the loss of my friend's partner as tribe; I had to choose sides to help my person through the pain. Honestly, they'd nested in a way that had all on autopilot and something had needed to change for some time. As friend, all you can do is take notes for your own relationship, unless the person asks to hear what you think. Then hope they remember that they asked your opinion, so you aren't used as a scapegoat once their anger/hurt recedes. Best of luck in those situations.
Anyway, the dream was a reframing; it broke a ouroboric cycle and from that came the divine creation of transcendence to greater meaning renewed from the rubble. Or something like that. I'm not currently in the thick of it. There were some million militia march madness dumpster fires everywhere then, as the shadows of a blaming world came online in their isolation, flooding the solitudinous with that brand of high school bestie posturing and not "overthinking" anything…in the least…except for perhaps ranting on how they've been wronged.
The worst shadow attributes of blamers were everywhere. Even a few people I'd liked enough to invest time on became negative peekers who lurked around policing people's actions, rolling their eyes at their expression, and overestimating their importance when it came to the lives of others. Tragically, not as much good comes to people who do not celebrate fortune (unless their own). It's basic law of attraction: fortune avoids those who avoid fortune, and their bitter pills. Envy is about low self-worth, which can be hard to dig into and heal. A lot of people turn to mantras or songs to generate a balance of wavelengths. It beats sitting around nodding about how narcissists and toxic people hurt them, when often they're comfortable and didn't want to read any further into looking at themselves or their projections. Too much effort! Overthinking! Or, someone scolded them as children for being too precocious or high-and-mighty. Told them that their forming opinions didn't matter because they had not yet formed. Anger at this is a necessary stage, but forgive the souls behind such bad handling of stress, responsibility, and sometimes resentment of lost youth. Free them, free yourself.
---
I'm still trying to get the book FutureYou together, speaking of explosions and rubble. I need to bring in Cere's ex sooner but can't do flashbacks because it would further confuse the sequence. Think I'll introduce him early via text.

[Cere is hanging out with Maena and Emma. ]
My phone buzzed. It was him.

"Everybody shut up."

I'll have to take you back several years for you to understand the psychic poverty I feel when I hear from him. Only thing worse is the constant feeling that I'll never hear a thing from him again. None of these intense feelings of abandonment are even his fault. Most of them anyway and the rest is on me. I made a joke about it: Two anxious attachment styles walk into a bar and ignore each other. Rim shot: Ba dum tssh.
I looked at the text. There it was, short and sterile like a note to pick up milk on your way home—whatever hole or hearth you call home these days. I hate uncertainty. It's like locking everything down in a waiting room. It's like airport security when you're late for your flight. It's watching a train coming and not knowing if jumping in front of it would cause more or less pain. I'm so bunched up at this point that the preoccupation is all I have to move things forward past suppression–suppression that feels as if it is about to walk into detached repression and never look back. Rumi wouldn't take that shit. You say what you want to say even if it's crazed; no, before it gets crazed. Why am I so nonexistent? It's probably that S&M pincushion he's hung up on. I get that we feel nothing and hurt our bodies, but do you really want the mentality of a petulant and disconnected child for a lover? I realize I just described myself but my obnoxious discontent is wiser, seasoned…I daresay endearing? I mean, we keep the childlike state—keep the inner child's freedom intact—but you have to curve the tantrums and the general qualities of an unexamined, immature human being.

She said as she stereotyped someone she'd only seen one picture of—fuck, this is some sophisticated posturing.
---


That's enough of that. I'll soon figure out a subscription button that doesn't need a lot of extra steps. From there, I want to bring in some guest writers. Reach out if you want to get in on that action.