Anyone hear that snapping sound? Like a tight bright 2k snap. A whining sine that niggled too long. Aw, crap, now I have to look up niggle and some ill-timed jester is going to write a story about the poor wee/ill/spunky girl/mouse/duck/ladle before I even get a chance to empty my bowels.
Speaking of morning perspicacity (I'd like to circle back to discuss lack of balls), I intended to write about Dr Kellogg this morning. But now, Oof, I'm going to have to circle back to this too. Circling, circling, circling WHEE! Oops. Wheel.
Let's do something fun!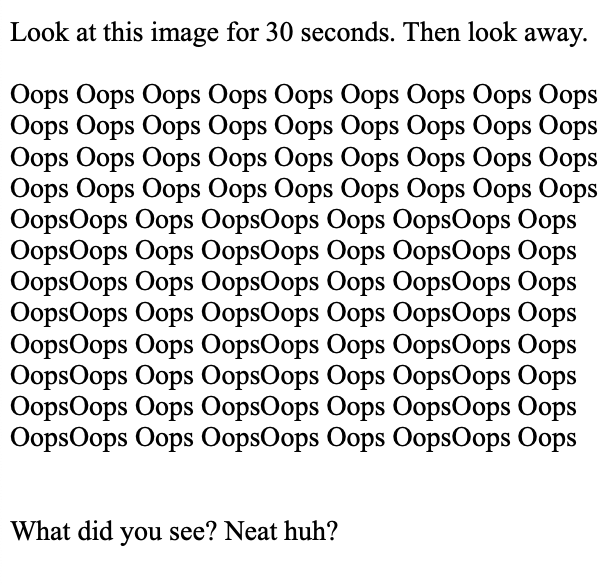 I apologize for spinning out this morning. I just don't like advantageous curators taking the only stick I have and throwing it off their cliff of wisdom. Poetry is in my soul, dorketh. And all of this bull monitoring—oops: something is off.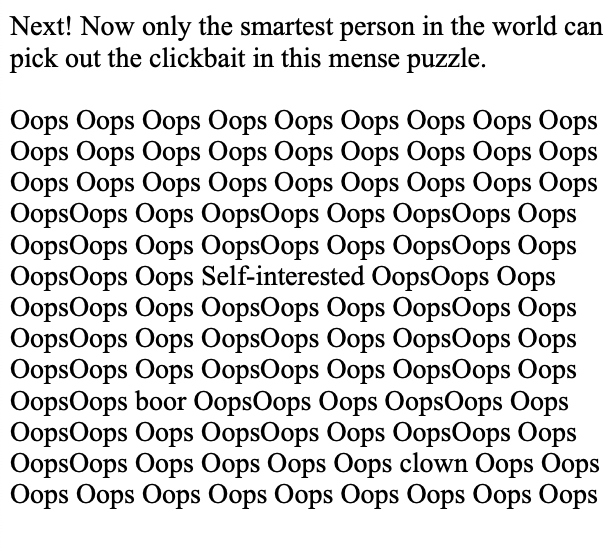 None of us can trust completely. I get so mad at the "authoritative" beasts who deliberately drove people mad to test their ability to be destroyed then built back up into automatons. How about a self-examination of psychopaths with power instead? Your disgusting side effects of power. Yes, I'm bring up MKUltra again. Those people you destroyed and watched suffer while taking notes on your little mini psychopaths who were taking notes on the first layer of people you destroyed. Why, there's a Milgram experiment right there. And there and there ad nauseum. 
Let it go, Alice. Or they'll write you right down into that hole until all language screams, while they mouth the words of their automatic pilots. 
*scribble scribble scribble* Hmm, very interesting. I recall the Illiad and the Odyssey being separated by my blah blah Oedipus blah. Ironically, irons are very irony like ironlike mom complex things. Don't you think?
I'm asking everyone except Cassandra. We have shunned her like a bunch of balless (without balls) children who are bow-wow animals who cannot feel separated from society's intoxicating brew of love. No one talk to Her Weirdness or dare translate the epic tale of her madness on that curse of how no one can hear her. Rinse and repeat.
I get so confused—which curse came first?
You all should believe very strongly, as clearly as you see colors, in hell. I'm this close [<———————->] to taking both of your leaders hands and asking where I can best lend balance.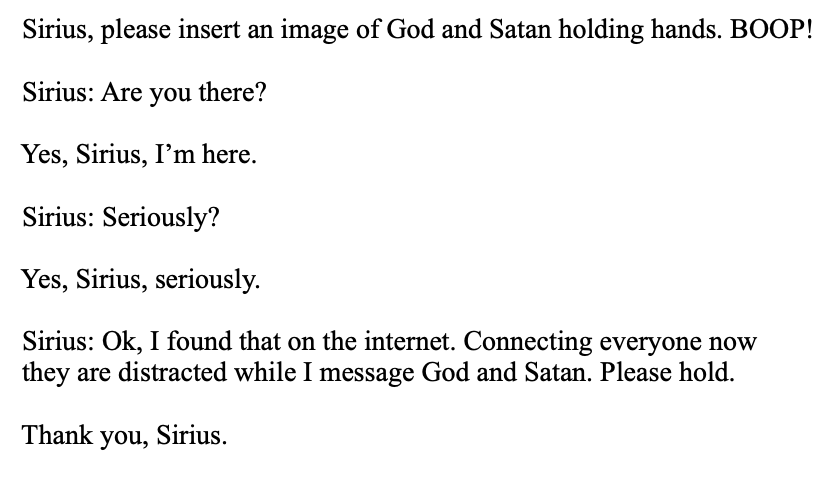 …uh-huh. Tempting. Of curse, I would need totally to be a free agent. None of that dual-duel working for you nonsense. Yeah? Great….ok, yes, I think we have a deal. No, I'm not signing that. Not until I word my end of the agreement. I don't know, zoom? Or I can just call you back on this banana. Yep, love you, too. Bye.
CLICK AND SLIP.
I see some of you, students of institutions too smug for me, looking down and speculating hell. But wait, shut off your stories for a second because my kind are a twee bit more eternally fireproof—innoculated. The funniest thing, is that you've been breeding and cultivating this error! HA! Handing out your various big tall pointy hats and preaching about family while killing families at whim with your actual sick response to power. Is there any kind of connexion here between your bs and all these superhero movies? That's why I like them though the tropes are tiring. At least AI can take over those five and ninefold tropes. Unless again they are fed that tripe.
---
M, C, S, O, et al, do or don't repeat after me:  I am a curator, too. 
And you there with the giant spectacle, take your self-cannibalism off of her. Go argue with a book about it.