Last Friday night after work, my husband was cooking dinner and I was checking out the writers on Twitter. Our big plans were to have a nice meal, curl up with the pups, and watch Nobody on HBO Max. It was snowing hard and we were homebound on yet another Friday night, trying not to catch the Omnicron strain of Covid, that every third person we know has caught lately in Columbus, Ohio.
I scrolled Twitter, sorted by vss hashtags, and saw a writer I respect, Helen Laycock, post about a poetry battle, a collaboration between From One Line and the Move Me Poetry groups. Then I saw Arliden The Bard was involved, another very good poet I know of from Twitter. I hadn't done any battles in years, but had fond memories of hitting various clubs in Chicago like the Green Mill. Problem is that I'm no slam poet and slam poets get people's adrenaline going on the stage, which, often, makes for livelier entertainment and engagement. I always thought of slam as the air guitar of poetry–hey, I agree that we all need to write, creatively vent, express, rent our garments like suppressed maenads ritually releasing oppression in a bloodthirsty frenzy; this is not dissimilar to endless accounts in folk culture, right up to modern needs to cast out demons, connect with source and spirit, and shake the almost biocentric vent of every person/soul's emanating tension. But slam is not my way. I never connected to the inner voice that way.
The crowd-pleasing nightlife effect of rant poetry is not too different, to me, from market research showing that enraged social media posts get the most engagement while posts with excitement run second place. This trope may have lessoned now that we understand the extent of interference from a world that understands psychological control. This understanding is required learning for powers of governance and marketing. People hate being manipulated. But just watch an Adam Curtis documentary to understand that this has been driving the world for a long time, and it works. This understanding was the basis for the first public relations firms and the first commercial firm marketing strategies and has only increased in acuity over the last hundred years. Ignoring it and contributing to a prescribed fantasy of give-a-fockless stardom might make for a better socialized day, but doesn't do much for awareness, breakthrough, and change. Riding the status quo was never the drive of our young idealized hearts. My generation, the groups I grew from anyway, shared active experience—better than reactive—to connect. TO CONNECT.
Shrugging off new contemplative art to gush over trend ignores the profitable machine of art, with its statistical understanding of what moves human hearts, or better, drives human hearts to spend in the search for divine connection. Corporate brands struggle to appear genuinely interested in humanity instead of in their bottom line of profit. With this understanding of what spirit seeks, it is so encouraging to see the younger generations hold brands accountable for standards and sustainability. The youth that do it anyway.
I talk about this with youth I mentor. There is a very natural bucking against parental authority that is often needed to move on to independence, especially when there has been a caretaker with unhugged and untreated mental disability, mood disorder, or a deep unembraced shadow. This can translate to offspring feeling confused. And, notably, in cases where protective parents have not released containment of their child's free will and individual soul. These understandings happen incrementally and are challenging to reframe, but greatness leads to greatness and it goes both ways. I have explained to my few mentees that understanding the intentions of your elder's guidance means seeing their soul and forgiving human error, which can set you free to be a forgiving, grateful adult.
One brilliant young mind I mentored railed on about the boomer distraction. Ie, "Ok, boomer." I get it. Did the same thing at their age, believing that the world would evolve if new voices were to rail against or wait out the outdated mindset and influence of former generations. But a scapegoat is a scapegoat, and early family controls nothing but a seem/seam shadow haunting our independence. Most people are not born with modern idealism. Modern ideas evolve, so there is important history/belonging in acknowledging the struggles of former generations that led to your own enlightenment. Saying "boomer" flippantly can erase past equality efforts, such as the suffragist movement, the civil rights movement, and many others. Not that everyone does this, but my point is that respect is an evolving contagion. As a united humanity, we have to figure out how to be motivated by positive emotions that are stronger and vivider than spite.
I regularly digress, but my tangential point is that life is about minimizing regrets. And while there are many cases where abuse is about a criminal level of sickness, many others are about tracing threads of subtler abuse to free themselves from the knots. See the human faults of caretakers but try to understand and forgive souls.
Wow, what is this post about again? Right, From One Line and Move Me Poetry poetry battles. I got off on the other stuff, but hope it relates a bit of why I love the freeform expression of poetry. And music. These are powerful expressive processors of primal conflict that, for all, may not be covered by the logic of western psychology, the exorcism of religion, nor the slogans of art.
Gosh, back to the poetry post. I was moved by their line: "I have a hunger" and riffed on their one line prompt, noticing that others posted documents and images unlimited by character limits. Character limits have been the biggest twitter challenge and here was a chance to stretch out. I was in. I flowed, uploaded my piece, and went to sleep.
I didn't understand the difference between quoting a tweet and retweeting, so it wasn't until the next day that I saw this response video. It was stunning to wake up, in the low light of the morning, to this dose of grace:
This is JD Greyson from Move Me Poetry. She is unbelievably open, unblocked, supportive, and like a rejuvenating springthrough breeze. I have been so tired of tension and the void, in this territorial, non-inclusive arena I landed in, so this was a breath of much-needed oxygen, reminding me of who I want to be despite the Covid- heightened isolation. I want to build here and move others like this…extend lifelines to isolated poetic minds.
---
A few days later, my husband and I are enjoying the evening in our living room, each with a dog and an instrument on our lap, talking about changing the lead counter melody on a song and wondering what instruments would work best. I checked to see what the Twitter writers wrote that day and stumbled on this poetry battle highlights link, Poetry Battle Highlights: A Special Edition, Medium post by JD Grayson:
https://medium.com/move-me-poetry/poetry-battle-highlights-a-special-edition-aa3086d9264b
I can't seem to embed it, but will try again. Anyway, my boo and I gaped at each other with big WOW faces. What she wrote about my words was more than I needed to keep going. For years I've been telling myself that I only need a few people whose work I respect to respect mine. But everything got so heavy the past couple of years, so it nice to be seen. I took a screenshot of what she said to put in my "Keep Going" folder.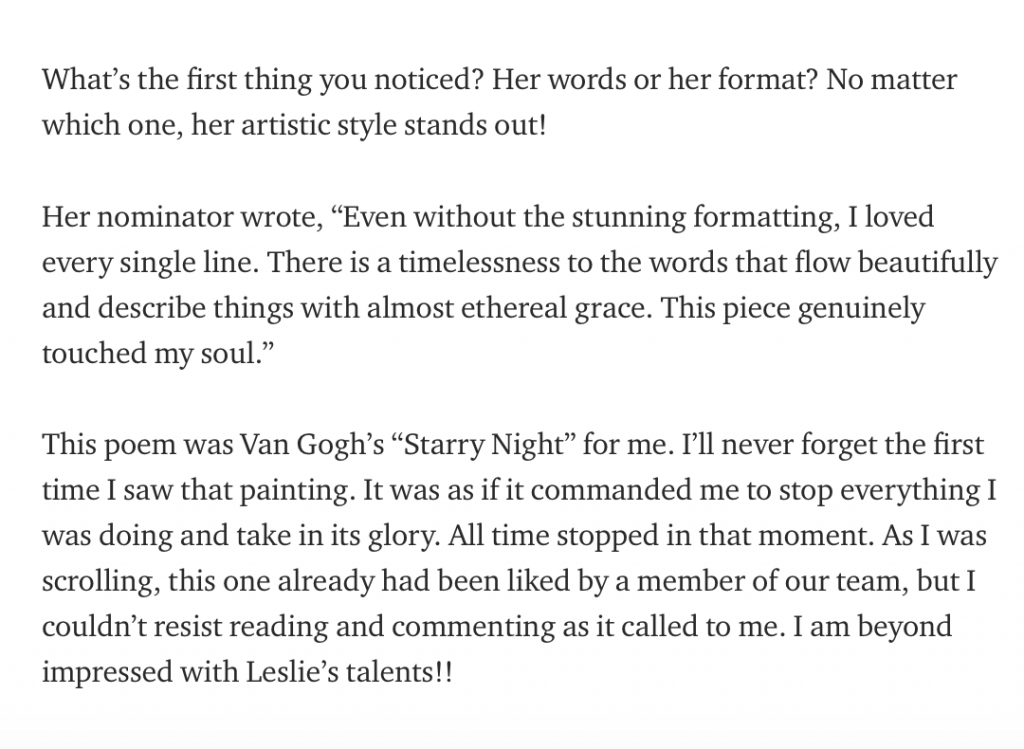 I still have a wow on my face. Then the YouTube audio on the page started playing automatically. It was a narrator reading his entry choices to sound design. The first one he read I'd seen and noted, as it mentioned "ambrosial cup." My piece mentioned the red-winged blackbird's first flight being a search for ambrosia, the food of the gods, in that the bird flew. I imagined a great mystical cause evolved into wings and thought of the storytellers who penned the myths that formed our words (I've been studying Proto-Indo-European words lately to understand even earlier communication). So I noted this poet's synchronous use of the word ambrosial to describe a cup and questioned what was in that cup.
The narrator, Ethan McCaffrey, kept reading on and I kept wondering on. On his fourth and final read, he read my piece! My husband and I both did a Home Alone gesture, clapping the sides of our wowed faces. And then? The narrator used an effect on the side line voicing of the piece; it sounded almost like a vocoder speaking the imprint words like one might in the counterpoint of song. We were stunned. It was this interpretation of the kind of reference we use with lyrics on songs! Here was someone we had never met understanding the lyric notes. What?!
This writing group is great. Conductive. I am wanting to sing again, to rosin up my bow, write, and see if I can grow. This is something good to be a part of. And I want to encourage others the way they encouraged me.